200-hour Yoga Teacher Training for Seniors 50+ with Doris Martinez
April 5th - April 25th, 2020
$1,999 Early Bird $2,299 Regular Price
21 days of onsite lodging
Lodging on site Private Villa $1,199 - Private Room in Shared Villa $599 - Shared Twin/Double in Shared Villa $399
Whether you're looking to move deeper into your own personal yoga practice or to teach professionally, this 200-hour Yoga Alliance® accredited yoga teacher training course offers students in-depth skills to explore Yoga as a vehicle for vibrant health, self-transformation, and personal empowerment-- everything you need to take your yoga practice to the next level.
This training is specifically tailored for those who are age 50+ who are looking to connect on a more profound level with the language of their heart, expand their inner truth and strengthen their yoga practice. This immersion is for those with an interest to teach students of their age bracket and beyond or who simply desire to go deeper in their own journey with yoga. Although this training is specialized in working with senior populations, the graduates of this program will leave empowered to teach not only the mature population, but all ages! It will also include exposure to a variety of different styles of yoga including all level Vinyasa flow, therapeutic yoga, alignment-based classes, yoga foundations, senior, gentle, and yin/restorative.
Highlights
19 days of practice in a breathtakingly beautiful location embraced by nature, known as one of the top three places in the world to retire!

Be taught by the highest level yoga teacher trainers with an abundance of knowledge and experience.

Be held in a sacred safe space for transformation.

Daily yoga classes

Daily guided meditation lessons

Weekly connected transformational breath work sessions where you will use your breath to transform suffering to peace, grief to joy and to free yourself from limiting thoughts and behavior patterns, labels and judgements. Using the breath you will experience amazing shifts in health, awareness and well-being.

Nature hike. Take a unique tour of the Boquete Tree Trek Hanging Bridges to enjoy an elevated perspective of the biodiversity of Panama's tropical cloud forest. A local guide will lead you through a circuit of six suspension bridges covering a 4.5 km route through the treetops of these protected forests.

Beach graduation celebration. Enjoy a private four hour boat trip into the stunning Gulf of Chiriqui Marine National Park to visit the islands of the gulf where you can feel the warm tropical air, sand between your toes on pristine white beaches, swim or snorkel in crystal clear aqua blue waters, and see dolphins, turtles, manta ray and other marine life. Towards the end of the route, we will pause on one of the islands for a marvelous buffet beach picnic lunch.

20 nights accommodation

Pristine surroundings

Yoga Alliance Internationally Registered Certificate
Hanging Bridges Nature Hike
Take a unique tour of the Boquete Tree Trek Hanging Bridges to enjoy an elevated perspective of the biodiversity of Panama's tropical cloud forest. A local guide will lead you through a circuit of six suspension bridges covering a 4.5 km route through the treetops of these protected forests. This excursion is accessible for all fitness levels. If the bridges don't appeal to you there several other small trails to explore on the grounds of the property or simple sip a tea while relaxing among the beauty of the green forest surroundings.
Gulf of Chiriqui Marine National Park Graduation Celebration
Enjoy a private boat trip into the stunning islands in the gulf where you can feel the warm tropical air, sand between your toes on pristine white beaches, swim or snorkel in crystal clear aqua blue waters, and see dolphins, turtles, manta ray and other marine life. Towards the end of the route, you will pause on one of the islands for a marvelous buffet beach picnic lunch.
The Program Overview
Later-in-life students come with their own needs, considerations and expectations. This program will focus on those special needs and considerations ensuring that the daily practices you participate in will lean towards softer, gentler classes. We will also explore Yoga philosophy and concepts from a later-in-life student perspective.
The program includes a variety of teaching methods so that you can learn, practice and embody the material. This includes demonstration, lecture, talking circles, partner practice, group processes, practice-teaching sessions, discussions and individual work. Process work helps you to connect to your own heart's wisdom and find your authentic voice as a teacher. Deep connection with the community of trainees and trainers gives you the support you need during and after the training to be successful in establishing yourself as a teacher and throughout your yoga career.
While this is an immersion program, the material will be paced with enough time to process the information, ample free time to absorb the information, as well as time to enjoy a variety of yoga activities that are inspirational, informative and transformational. This training is designed to be suitable for people of all religious and spiritual backgrounds. At YiA YOGA, we fully respect and honor each and every individual's belief systems. We do not seek to "convert" you. We seek to inspire you to be the best version of yourself. If you believe in a higher power, we desire to connect you more to your own higher power and your highest self. Together we will practice the power of love and gratitude, which cross all cultures, religions, and philosophies.
During our time together we will study:
how yoga can have a positive affect on the aging process to improve overall vitality of life

identify our individual musculoskeletal imbalances and learn how to address these imbalances for ourselves and our students

modifications and adjustments appropriate for people with injuries, lack of strength and/or mobility, and other limitations regardless of age

how to teach from your own heart's wisdom

the art of peak pose sequencing and how to effectively and carefully plan and sequence yoga classes for all body types

how to incorporate themes and intentions into your teaching and practice

how to fine-tune your asana through a deeper understanding of anatomy informed alignment principles

methods to gain insights into your true nature through the ancient wisdom of Yoga and its philosophy

transformational connected breathwork, mantra and meditation as tools to create vibrant health and wellbeing in your life

how to build self-confidence and tap into your amazing potential in a supportive, nurturing environment

concepts from Ayurveda, the Upanishads, Patanjali and the Chakra System as frameworks for the application of yoga as a journey towards radiant health and wellbeing
DAILY SCHEDULE:
07:30 – 08:30 Meditation & Morning Reflections
08:30 – 11:00 Morning Classroom Session
11:00 – 12:00 Asana Practice
12:00 – 13:00 Lunch Break
13:00 – 14:00 Partner Practice or Individual Soul Journaling
14:00 – 15:30 Afternoon Classroom Session
15:30 – 16:30 Posture Clinic
16:30 – 17:30 Practice Teaching
17:30 – 18:30 Reflection/Study Hall
WHAT'S INCLUDED:
 Daily yoga practice

 Daily meditation

 Weekly breath work

 Quality training with master level, highly experienced, knowledgeable and passionate teachers

 Access to three different personality quizzes

 Nature hike

 Graduation beach trip

 Internationally recognized certification through Yoga Alliance




WHAT'S NOT INCLUDED:

Additional excursions & activities 


Spa treatments 


Airfare 


Airport transfers 


Meals

Give yourself the gift of yoga! Join us for 21 unforgettable days of yoga transformation. All participants should be 50 or older. We cover all the yoga education elements to be competently trained as a yoga teacher, with time devoted to self-discovery and introspection as well.

Each teacher-in-training is encouraged to be open to all styles, but they are also encouraged to embrace only the information that resonates with them personally so their teaching is rooted in authenticity. We further encourage the teacher trainee to layer their own personal gifts of understanding, compassion and the insights acquired from life experience, education, or challenges, because what we have learned from our own lives strengthens our voice as a teacher and helps us discover what we, as individuals, can bring to the yoga world.
Retreat location
This retreat will be held in Boquete, Panama.
PANAMA
Panama is the natural bridge that unites the Americas and has the greatest diversity of wildlife in Central America. Much of the land, over 1/3, is covered by national parks with a variety of plants, animals, reptiles, birds, and a wide range of marine life.
Panama offers the complete travel experience with activities, such as zip-lining through the jungle, hot springs, horseback riding, mountain biking, amazing hiking, bird watching, white water rafting, fishing, rock climbing, repelling, surfing, cave exploration, snorkeling, four-wheeling, volcano treks, and much more.
Above all else, the culture of people in Panama will amaze you and show you the kind of love and acceptance that will inspire you for a lifetime. They are the kind of selfless people that you can ask for directions and they will walk you to your location, even if they need to go the other way.
Or the kind of people you meet on the bus and they invite you into their homes to share a meal after an hour of knowing you. The best way to describe them is open-hearted and they will make you not want to leave.
BOQUETE
The valley of Boquete is located in the western highlands of Panama at 1,200 meters above the sea level. Nestled amongst the country's most mountainous region, this peaceful town is situated between the Caldera River and Baru Volcano.
Surrounded by untouched tropical cloud forests, Boquete is just an hour and a half from unspoiled white sand beaches in the Pacific and four hours from Bocas del Toro in the Caribbean, offering yogis plenty of opportunities to hit the beach during the weekend to enjoy the warmth of the sun and get to do some of the most amazing scuba diving, snorkeling, and surfing that they could imagine.
Boquete is safe, beautiful, inexpensive and exciting. It can be easily accessed by one-hour daily flights from Panama City to David (the country's second largest city), and then a 30 to 40-minute car or one hour bus journey.
The "Valley of the Flowers and the Eternal Spring", is home to 20,000 habitants whose cultural roots can be traced to Native Indians, Spaniards, Europeans, and North Americans among other ethnicities. Its first settlers came from other areas of Panama, as well as other countries such as Switzerland, Sweden, Germany, and North America.
All give shape to the cultural melting pot that Boquete is today. Most farms and houses still have architectural styles that are reminiscent of these other countries.
On the sheer mountains that surround the valley live the Ngöbe Bugles, an indigenous ethnic group who are highly skilled artisans, famous for their colorful chaquiras (beaded necklaces) and "nahuas", traditional dresses.
Boquete is considered the ecotourism and adventure travel capital of Panama. For extreme adrenaline, you have the White Water River Rafting in the Chiriqui Viejo. For coffee lovers, you have Coffee Tours to coffee plantations and processing farms in Palmira, Palo Alto, and Alto Quiel. To admire the beauty of the tropical cloud forest, you have the Zip Line Canopy Tours in Palo Alto.
For a challenging trek and a chance to view both oceans from Panama's highest point, you can hike and camp to the top of the Baru Volcano. For the most incredible hike, challenge yourself to the Quetzals Trail footpath from Cerro Punta to the entrance of La Amistad National Park. For a relaxing afternoon, you can soak in the Caldera Hot Springs.
For you cowboys, you can go horseback riding through Caldera's valleys and to admire nature's abundance, you can go for a bird watching tour. For extreme sports enthusiasts, there is rock climbing and rappelling at Los Ladrillos in Bajo Mono. During the weekend, boat trips and island hopping tours can be arranged to Bolaños or Gamez Islands in the Golf of Chiriqui.
Panama's best surfing spot is just a couple of hours away in the world famous town of Santa Catalina and the most amazing scuba diving spots are found at Isla Coiba, which is also in Chiriqui's Golf. The Archipelago of Bocas del Toro is only a 20-minute flight away from David and offers a great taste of the Caribbean vibe.
The location of Boquete enjoys a sunny cool mountain climate, comfortable all year round, considered nearly perfect, with temperatures ranging between 16 to 28 degrees Celsius.
How to get to Boquete
ARRIVAL BY AIRPLANE
Please book your flight to arrive at Enrique Malek airport in David (DAV). Transfer from and to the airport is available upon request.
Panama is just a short plane ride away if you are coming from the USA and cheap flights are available on a regular basis. Eight major US cities offer direct daily flights to Panama City: Los Angeles, New York, Newark, Miami, Houston, Dallas, Atlanta and Orlando. You can also fly directly from Paris, Madrid, Amsterdam, and other locations around Europe.
Panama City, Panama and San Jose, Costa Rica are the same distance from Boquete, so we suggest to check prices for both locations, although flights to David from San Jose are less frequent, but if you plan to take the bus, San Jose may be the cheaper option.
If you arrive in Panama City the flight to David is around 45 minutes.
ARRIVAL BY BUS
If you decide to take the bus, it is about six to eight hours by bus or car. From David to Boquete is it about 45 to 60 minutes by bus, taxi, or a shuttle.
OPTION ONE
Panama City to David by Private Shuttle YiA YOGA can arrange private shuttles from your arrival airport in Panama City directly to Boquete for 450 USD. You will walk off the flight and your very own bi-lingual tour guide will be there waiting for you with a sign with your name on it. No taxis, no airport transfers, no hassles. And you can make stops along the way whenever you would like. To book a transfer, email us today.
OPTION TWO
Panama City to David. You will arrive to Panama at Tocumen Airport (PTY) and to fly from Panama to David you have to go to Albrook "Marcos A. Gelabert" International Airport (PAC), which is about 45 minutes away depending on the time of day and traffic. You can take a taxi between Tocumen International Airport (PTY) and Albrook "Marcos A. Gelabert" International Airport (PAC) or spend a night in a hotel in Panama City and then take a taxi next morning to Albrook "Marcos A. Gelabert" International Airport (PAC).
A taxi from Tocumen International Airport (PTY) to or Albrook "Marcos A. Gelabert" International Airport (PAC) to a hotel in Panama City should cost around 25 to 35 USD. A taxi from your hotel should not charge you more than 5 USD to take you to Albrook "Marcos A. Gelabert" International Airport (PAC) if you are staying within Panama City.
The last flight to David from Panama City departs around 6:00 p.m., so if you land on Panama City after 1:00 p.m. plan to spend the night in a hotel in Panama City or take a bus to David. The last bus to David leaves Panama City at 3:00 a.m. You should allow at least 3 hours between landing at Tocumen International Airport (PTY) and getting to Albrook "Marcos A. Gelabert" International Airport (PAC) or bus station because of customs, immigration, and then the journey within Panama City.
OPTION THREE
Panama City to David by bus
If you want to take a bus to David from Panama City, you first have to take a taxi from Tocumen International Airport (PTY) or from your hotel in Panama City to Albrook bus terminal. There, you will be able to catch a bus to David. Busses depart almost every hour so you should not have any problem with the schedule and you do not have to bother with reservations. The only dates when you will not be able to easily catch a bus is when it is a Panamanian National Holiday.
The first bus departs everyday at 6:00 a.m. and the last one departs at 3:00 a.m. The bus ticket from Panama to David costs 12.50 or 15 USD per passenger depending if it is an express bus or not. Express buses are the fastest and depart at 3:00 p.m., 10:45 p.m., 12:00 p.m., and 3:00 a.m. Once you arrive at the bus terminal in David, you can easily take a connecting bus to Boquete for 1.45 USD from the same terminal. The last bus from David to Boquete leaves at 8:45 p.m.
Panama City to David by rental car
You may also rent a car in Panama City and drive to Boquete. This is a good option for those who feel comfortable driving in other countries, but may be overwhelming to some drivers. Rental cars are also available in Boquete. Budget has an office in the town center, so that may be the best option.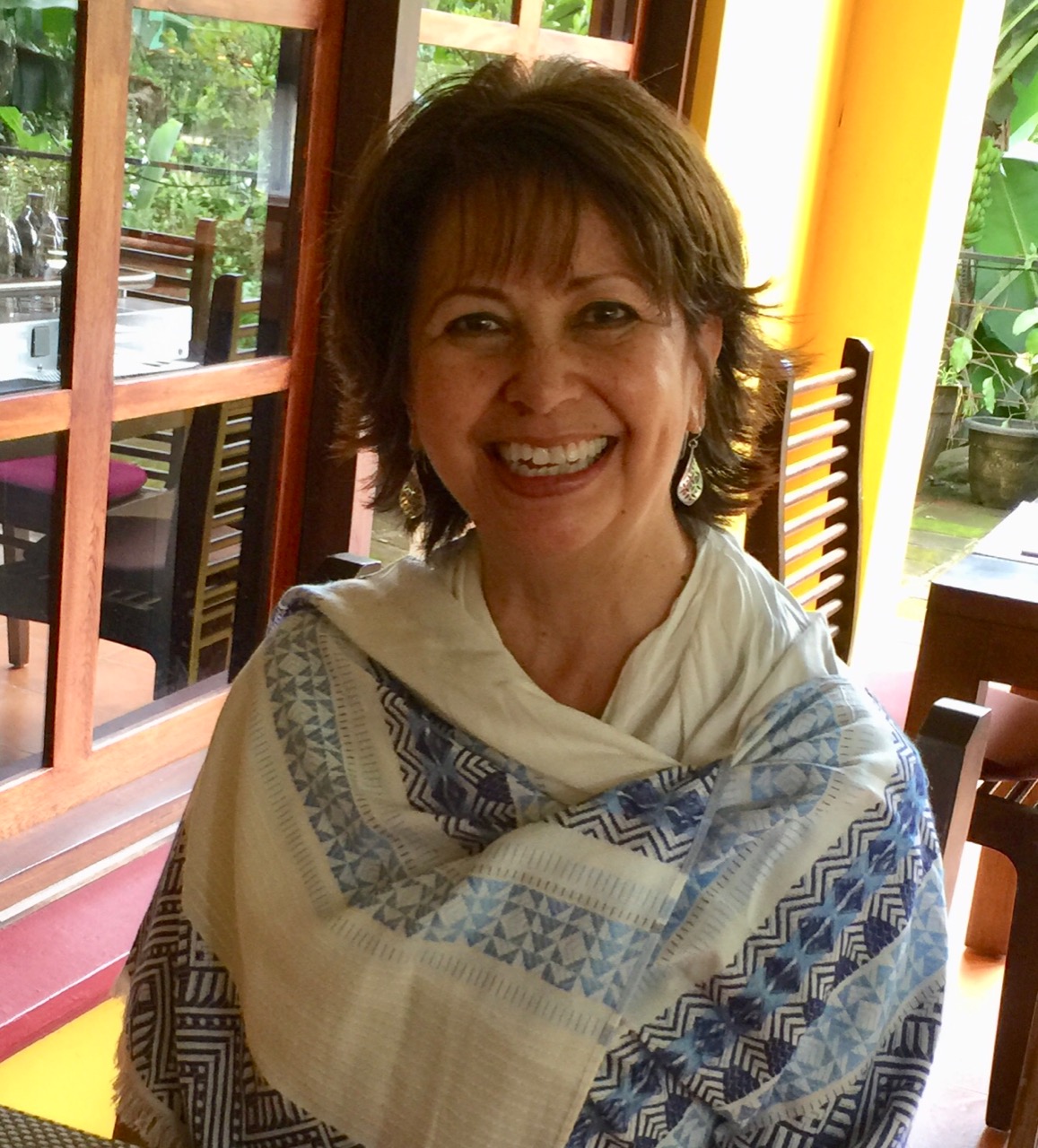 Doris Martinez, E-RYT-500, Yoga Wellness Educator, Certified Therapeutic Yoga Instructor
Doris began her career in health and fitness in 1980. Over the past 40 years, in addition to being a Yoga Instructor, she has been a Certified Group Fitness Instructor, Pilates Instructor, Master Personal Trainer, and Nutrition Counselor, to name a few. Doris started practicing yoga in 1999, received her first Yoga Certification from the American Council on Exercise in 2000, and then went on to complete her Yoga Alliance 200-hour and Therapeutic Yoga Certifications in San Francisco, California. After moving to Boquete in 2015, Doris completed a Yoga Alliance 300-hour Teacher Training and a Yoga Wellness Educator Certification.
Doris enjoys teaching many different types of yoga classes and yoga wellness workshops from Gentle Yoga for Back Care to Deep Slow Vinyasa Flow to Yang-Yin Yoga, but her greatest passion is working with older students, those with physical limitations and those with mobility and health issues. As a Yoga Wellness Educator and through the teachings of Therapeutic Yoga she hopes to help those recovering from, or living with, injury or illness find more ease in their body, peace of mind, and greater levels of health and well-being.
Click here to apply today!
http://www.go2yia.yoga/ytt-application